Girl Talk:  Seasons of a Woman's Life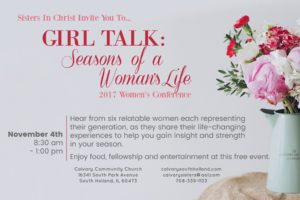 What season are you in right now?
This year's Women's Conference is focused on connecting you with 6 relatable women that each represent a different generation. They will share their experience(s) that have affected their lives that will help you gain insight and strength in your current season.
The conference will include:
• Continental Breakfast
• Lunch
• Keynote Presentation
• Mime
• Praise & Worship
Our goal for this FREE event, is that you will leave strengthened and linked to resources.
RSVP now, limited seating.
Hosted by Sister In Christ